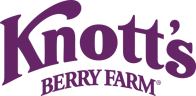 Knott's Berry Farm is a world-renowned theme park built from the humblest of
beginnings over 100 years ago. Starting with a simple roadside berry stand, then a
restaurant serving mouthwatering chicken dinners, Walter and Cordelia Knott attracted long lines of customers to their Buena Park farm.  To keep crowds entertained, the Knott family built an entire western-themed town that remains the heart of Knott's Berry Farm today.  Anchored in its rich California history and charm, Knott's Berry Farm now bursts with attractions and entertainment for all ages, including first-class roller coasters and thrill rides, elaborate stage shows, interactive entertainment, and family friendly fun featuring Snoopy and the Peanuts™ Gang. To complete the family resort, the Knott's Soak City Waterpark and Knott's Hotel are located within walking distance of the theme park. Plus, true to its roots, Knott's continues to serve up delicious food creations that can only be found at Knott's Berry Farm. One-of-a-kind seasonal events include Knott's PEANUTS™ Celebration, Knott's Summer Nights, Knott's Boysenberry Festival, Knott's Spooky Farm and Knott's Scary Farm Halloween events, and Knott's Merry Farm holiday celebration. There's always a good reason to visit California's original theme park!
Connect with Knott's Berry Farm
The Following Apps are Available
Feature Videos